Performance products for the EV market: our interview with Norberto Gatti
Our new interview with Norberto Gatti (Global Sales & Marketing Director Performance Products & Specialties) regarding Italmatch portfolio for EV market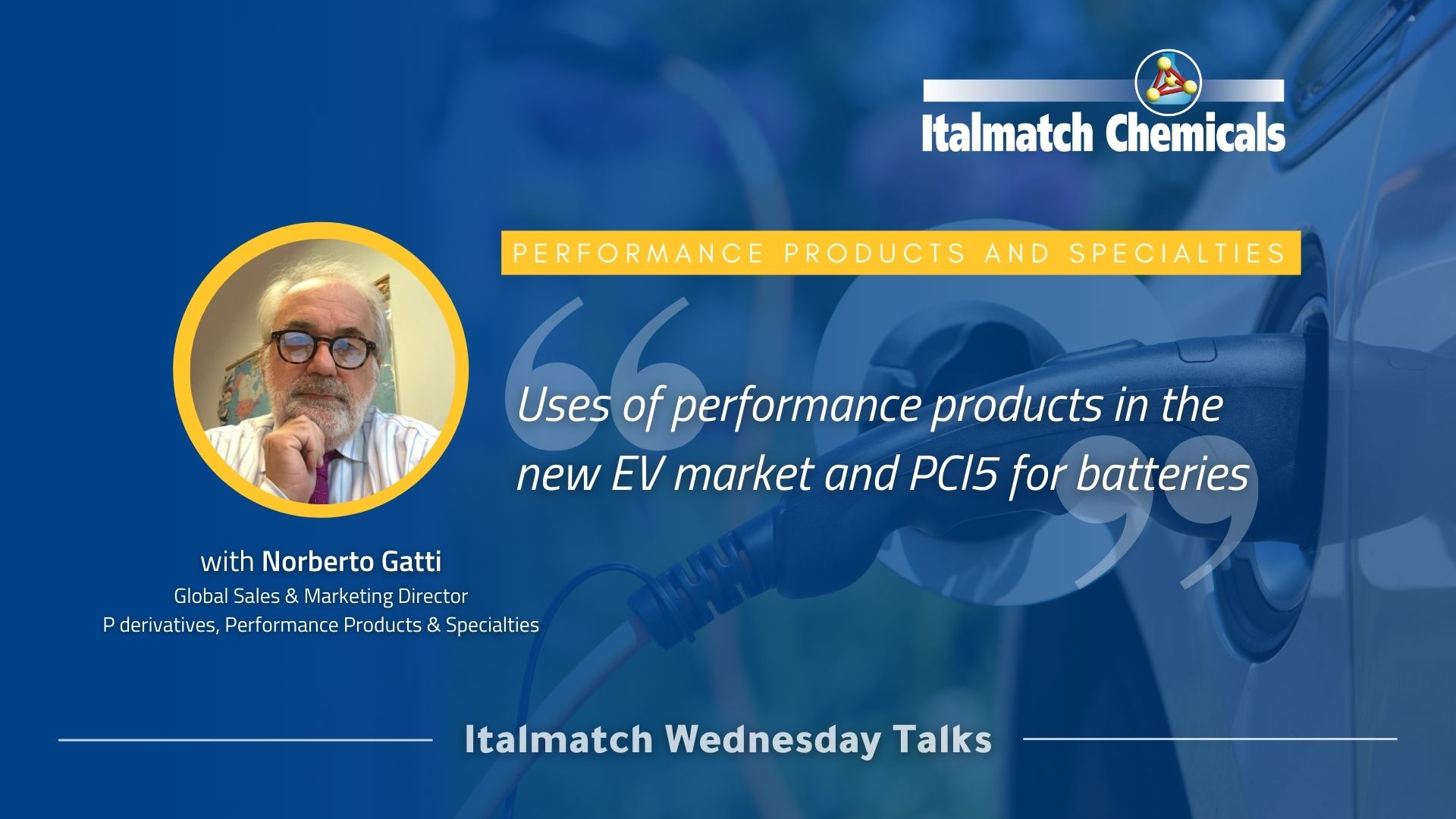 Chemistry is today at the forefront of the development of sustainable solutions for green applications and has an essential role to meet SDGs. Chemicals for e-mobility are ensuring growing performances and safety for every electric vehicle. We talked about Performance Products applications for the new EV market with Norberto Gatti, Global Sales & Marketing Director P derivatives, Performance Products & Specialties.

learn more about our performance products portfolio →

How are Italmatch's performance products involved in the new EV market?
Italmatch is actively working in the market of Electric Vehicles with different products and applications, from lubricants to flame retardant additives for battery case. Our business unit is today the main European supplier of raw materials for EV batteries electrolytes (PCl5 and P2S5).
Europe is working to strengthen the production of EV batteries. How is Italmatch involved?
Italmatch is part of the second Important Project of Common European Interest (IPCEI) for Batteries, supported by EU funds. Our Frankfurt plant is involved in the supply chain of raw materials for the Li-Ion batteries. We are doing necessary improvements to prepare our manufacturing plant.
Which kind of improvements are you facing?
We are looking at the best solution for logistic and product packaging: we will choose a reusable packaging that can carry continuously our products to the battery electrolyte factories and that can be disposed as recyclable waste when end of life will be reached.
If you want to learn more about our Phosphorus derivatives portfolio, visit our Performance Products & Specialties Business Unit page >
Norberto Gatti graduated in Chemistry during the 80's in Milan University. He started his career in Montedison Donegani Institute in R&D for several years, including a yearly experience abroad. In 1992 joined MixOil, an Agip Petroli company, starting to work in the commercial arena of lubricant additives, then joining Italmatch in 1998 as Commercial Director of the Company. He is a passionate customer-oriented person, internationally experienced in Marketing, Sales and Product Development in Phosphorus Chemistry and Chemicals for Lubrication within multinational environments. Today, he is responsible for one of the Italmatch Business Units, coordinating the business work and the product development of 5 manufacturing units worldwide and growing synergies with other plants belonging to Italmatch Group.
Bloomberg's prediction of 75 million electric cars cars sold...

Our CEO Sergio Iorio took a speech about Innovation as a key...

The specialty chemicals group has gradually moved into the w...
Read more News