Italmatch Halogen Free Flame Retardants: interview with Ugo Zucchelli
Our interview with Ugo Zucchelli (Global Sales and Technical Assistance Manager Plastic Additives) about Italmatch Halogen Free Flame Retardants and latest innovations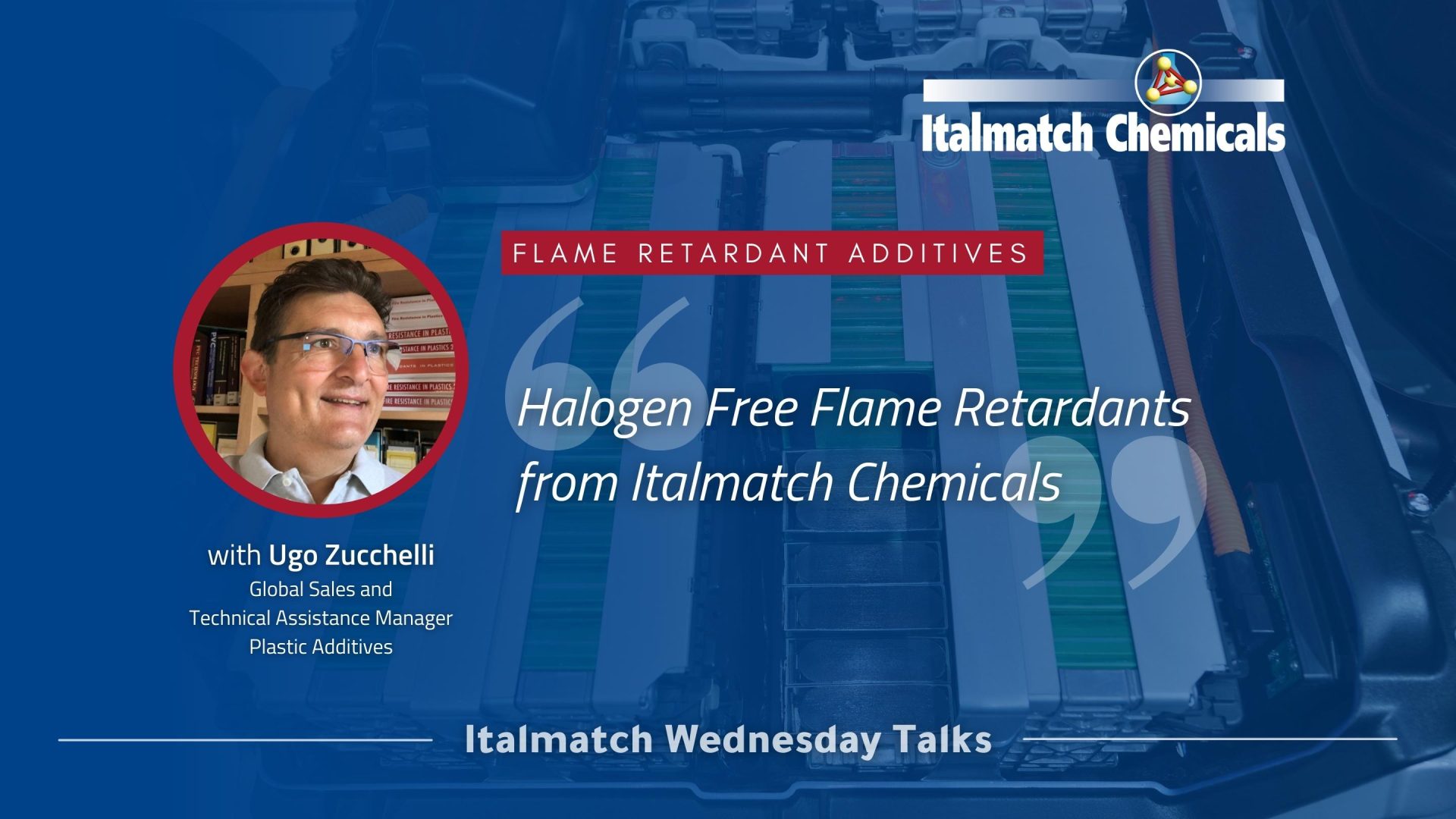 Even if we cannot see them, Flame Retardants are present in various moments of our everyday lives ensuring safety for ourselves and the people around us. This is possible thanks to their wide range of applications like thermoplastics, construction and electric vehicles, just to name a few.
From the features and benefits of Italmatch's for Halogen Free Flame Retardants to the new applications and needs of the market in terms of sustainability and flame retardancy performances: we take a look about these topics in an interview with Ugo Zucchelli, Global Sales and Technical Assistance Manager Plastic Additives.
What are the applications of the Italmatch's Halogen Free Flame Retardants?
Italmatch Halogen Free Flame Retardants additives Masteret®, Melagard® and Phoslite® are well recognized benchmarks in international markets, used in organic polymers to save lives by reducing the spread of fire and its intensity and providing to people the necessary time to escape. They are present in everyday life in houses, cars, trains, airplanes and in public buildings like stadiums, theatres, and metro. Main applications are injection moulded and extruded plastic parts of electric and electronic equipment like electrical switches, appliances casing, fan heaters and in constructions parts as stadium seats, air ventilation profiles, cables ducting as well as in some technical textiles.
What are the benefits of using Italmatch's products?
One of the main reasons why Halogen Free Flame retardants are emerging as the dominant flame retardant additive system used in thermoplastics is that traditional halogenated flame retardant systems develop a black and dense smoke during fire, which make difficult for people to escape. Another reason is that some halogen-based flame retardants have a negative effect on the environment, in case of incineration for instance or simply leaching during processing or use or recycling step. Among the different Halogen Free Flame retardant molecules existing, Phosphorus-based Flame Retardant like Masteret® and Phoslite® offers a unique combination of excellent flame retarding performances, superior toxicological profile and reduced environmental impact.
How Italmatch answers the evolving needs of flame retardants market?
Flame retardants growth is driven by increasing safety awareness and new applications, like electrical mobility. Italmatch innovation and development capabilities enlarged Phoslite® product portfolio to new grades ensuring best flame retardant rating in presence of high voltage for critical components in Electric Vehicles like connectors, housing covers and cables.
Ugo Zucchelli graduated in Chemistry during the eighties in Ferrara University (Italy). He is a passionate customer oriented innovator, internationally experienced in Marketing, Sales and Product Development in Plastics and Chemicals within multinational environments. Ugo joined Italmatch Chemicals in year 2006 as Business Developer for Flame Retardants. Today, he is responsible for Global Sales and Technical Assistance. He holds 25 Patents in the polymers additives field and some publications. He is fluent in French, English and Spanish.
Italian newspaper Il Mattino features Italmatch Chemicals wi...

The Saudi Arabian fund announced its entry into Italmatch ca...

Italmatch Chemicals is speaking at the event to present the ...
Read more News