Italmatch Flame Retardant Phoslite© Technology Review
Learn more about Phoslite©, our FR technology based on Calcium Hypophosphite and Aluminum Hypophosphite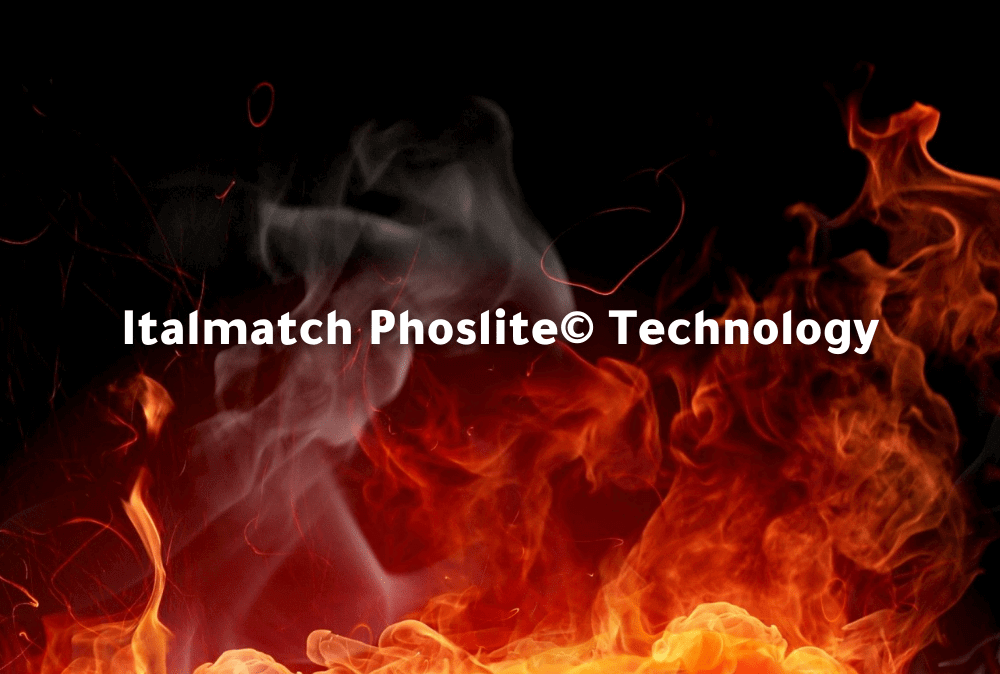 Flame Retardants for Thermoplastic and Thermosets polymers: What is Phoslite©?
Phoslite© is a new Flame Retardant technology developed by Italmatch Chemicals using thermally stable inorganic phosphorus salts as Flame Retardants for a wide range of thermoplastic and thermosets polymers. These products, used alone or in combination with existing FRs, offer to the compounder unmatchable possibilities to develop formulations in existing and new applications based on engineering and commodities polymers.
Examples are tailor made proprietary blends of Chemicals particularly designed for PP and copolymers to fulfil the UL-94 V2 standard and many others. These solutions offer benefits in term of low migration, low additive loading, high process stability, resistance to discolouration and compatibility. Further industrial grades include halogen free solutions for PBT, PET-G, PA 6, TPU, PC and PC/ABS, ABS, PU.
The high versatility of Phoslite Technology is due to the multiple Flame Retardant mechanisms (i.e.: Gas phase, Charring effect, Runway dripping):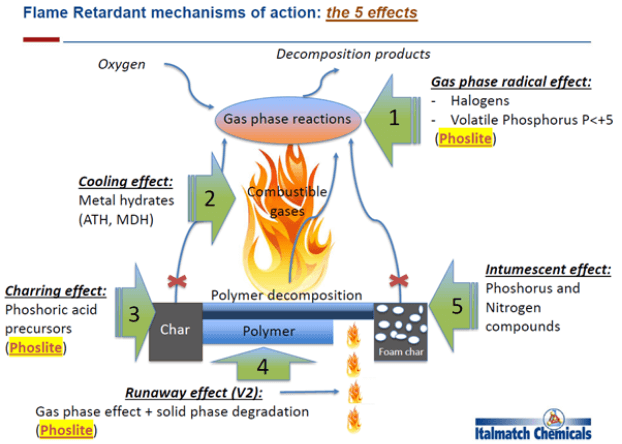 Phoslite© chemical base and production
Phoslite© technology is based on Inorganic Phosphorus Salts in a low oxidation state (P+1) called Hypophosphites, which general molecular structure is:
[H2PO-O]n M n
Where" M" is a metal and "n" is an integer number from 1 to 3.
Italmatch during the last 20 year developed Flame Retardant formulations and productions process for two particulars effective hypophosphites with high phosphorus content thermally stable and fully colourable: Calcium Hypophosphite and Aluminum Hypophosphite.
Calcium Hypophosphite (CAS: 7789-79-9) is a relatively water-soluble salt with high phosphorus content (37%) and exceptional thermal stability
Aluminum Hypophosphite (CAS: 7784-22-7) is a low water-soluble molecule with very high phosphorus content (42%) and high thermal stability
Both pure salts are flammable powder subject to ADR transportation. Italmatch own integrated production from elemental phosphorus to finished pure powder grinded in different particle size.
Italmatch Flame Retardant technology with a strong intellectual property
Italmatch intellectual property in Flame Retardants is worldwide recognized by a wide family of International Patents for a broad range of polymers, for instance: Polycarbonate, Polyolefins, Polyesters, Polyamides. First priorities go back to year 2003. Up today, more than 20 Patents families are published and granted in more than 30 different Countries.
LEARN MORE ABOUT ITALMATCH'S PHOSLITE© FLAME RETARDANT:
Italmatch Flame Retardant Phoslite© for Polypropylene V2
Italmatch Flame Retardant Phoslite© for TPU cables formulations
Read more about Italmatch's Flame Retardants business unit 🠒 
Ruggero Sala and Fabio Costiniti, from Personal Care, Fabric...

The Group is committed to setting a near-term science-based ...

100 Italian E-Mobility Stories 2023 features Italmatch thank...
Read more News