Italmatch Flame Retardant Phoslite© for Polypropylene V2
Italmatch Phoslite© technology: learn more about Flame Retardants masterbatches for Polyproylene V2
Italmatch's Phoslite©: Polypropylene V2 Halogen Free and low halogen additives
Phoslite© is a new Flame Retardant technology developed by Italmatch Chemicals using thermally stable inorganic phosphorus salts as Flame Retardants for a wide range of thermoplastic and thermosets polymers. These products, used alone or in combination with existing FRs, offer to the compounder unmatchable possibilities to develop formulations in existing and new applications based on engineering and commodities polymers.
Examples are tailor made proprietary blends of Chemicals (Phoslite halogen free or low halogen grade) particularly designed for PP and copolymers to fulfil the UL-94 V2 standard and many other norms where the final compounds contain no halogens or are halogen free according to some international standards (low halogens).
Halogen free definition and standard: what are halogen free flame retardants?
Until recently the definition of "halogen free flame retardant" has been used to indicate flame retardant formulation in which halogen were not intentionally added to reach the flame retardant property. However, the presence of trace of halogen in some pigments, anti-dripping additives or even into some polymer catalysts arise the need of a better and more precise definition.
For instance the term "Halogen Free" does not necessarily indicate a complete absence of halogens but, instead, a content of Halogen below 3000 ppm (0,3%) by weight, 2000 ppm (0,2%) by weight, 1000 ppm (0,1%) by weight or 900 ppm (0,09%) by weight, as can be seen in the following examples:
According to JPCA-ES-01-1999 (by Japan Printed Circuit Association), IEC 61249-2-21-2003 (by International Electrotechnical Commission), the criteria for defining "Halogen Free" in PBC laminates and materials is content of Bromine ≤ 900 ppm; or content of Chlorine ≤ 900 ppm and eventually 1500 ppm total halogens (Bromine and Chlorine).
According to DIN VDE 0472-815:1989 (by German Commission for Electrical Engineering, Electronic and IT)., IEC 60754-1:2011, and EN 50267-2-1:1998 materials with content of Bromine or Chlorine ≤ 2000 ppm and Fluorine ≤ 1000 ppm are regarded as halogen-free. DIN VDE 0472-815:1989, originally designed for cables, wires and flexible cords is sometime used also for other applications.
According to NPG/PS 117:2014 (by the Nordic Pipe Group Association) a flame retardant halogen free conduit system for cable management made of polypropylene, contains less than 1000 ppm of halogen.
According to EN 50642:2018 (by European Committee for Electrotechnical Standardization, CENELEC), a flame retardant halogen free conduit system for cable management, made of polymeric material, contains:

Bromine ≤ 1500 ppm;
or has a content of Chlorine ≤ 1500 ppm,
or a content of Fluorine ≤ 3000 ppm,
or a content of Iodine ≤ 3000 ppm
or the total content of Bromine, Chlorine, Fluorine and Iodine is ≤ 4000 ppm.

New emerging standards are being written to define limits and detection methods for Halogen Free composition in different applications.
Polypropylene V2: Italmatch product range
Italmatch has a very broad of tailor-made additives and synergic materials for PP V2 with halogen <3000 ppm or without halogen. Some noticeable examples are reported in the table: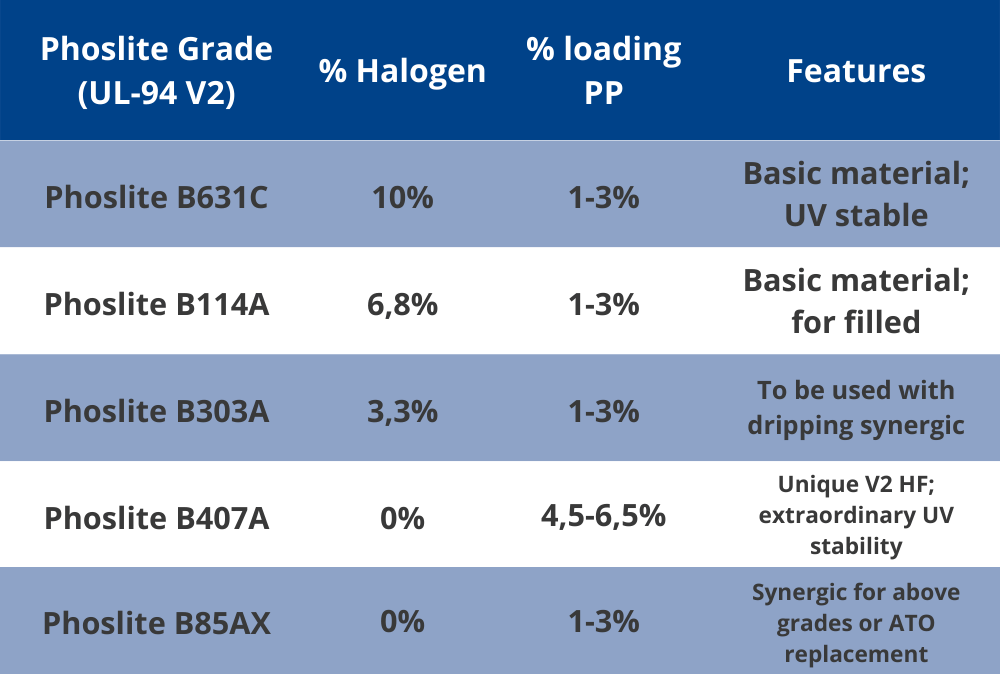 Examples of applications are:
Stadium seats and theatres
Corrugated pipes for electrical cables ducting
Wastewater pipes for buildings
Air conditioner case
Air ducts profiles in ventilation systems
Appliances parts
Electrical switches
Films
Fibres (automotive and buildings carpets)
Compared to traditional V2 PP based on Antimony trioxide and TBBPA-DBPE Tetrabromobisphenol A bis 2,3-dibromopropyl ether, Phoslite © offer following benefits:
Low Halogen or no Halogen
Low smoke
Very low loading (1-4%)
No yellowing
Very high UV stability
Antimony free
No blooming
No corrosion
Low tinting
Italmatch Flame Retardant technology with a strong intellectual property
Italmatch intellectual property in Flame Retardants is worldwide recognized by a wide family of International Patents for a broad range of polymers, for instance: Polycarbonate, Polyolefins, Polyesters, Polyamides. First priorities go back to year 2003. Up today, more than 20 Patents families are published and granted in more than 30 different Countries.
LEARN MORE ABOUT ITALMATCH'S PHOSLITE© FLAME RETARDANT:
Read more about Italmatch's Flame Retardants business unit 🠒 
Ruggero Sala and Fabio Costiniti, from Personal Care, Fabric...

The Group is committed to setting a near-term science-based ...

100 Italian E-Mobility Stories 2023 features Italmatch thank...
Read more News