R&D in the Flame Retardant Additives division: interview with Vincenza Morone
Vincenza Morone (Laboratory Manager Flame Retardants) analyzed Italmatch latest R&D achievements and newest projects in the Flame Retardant Additives business unit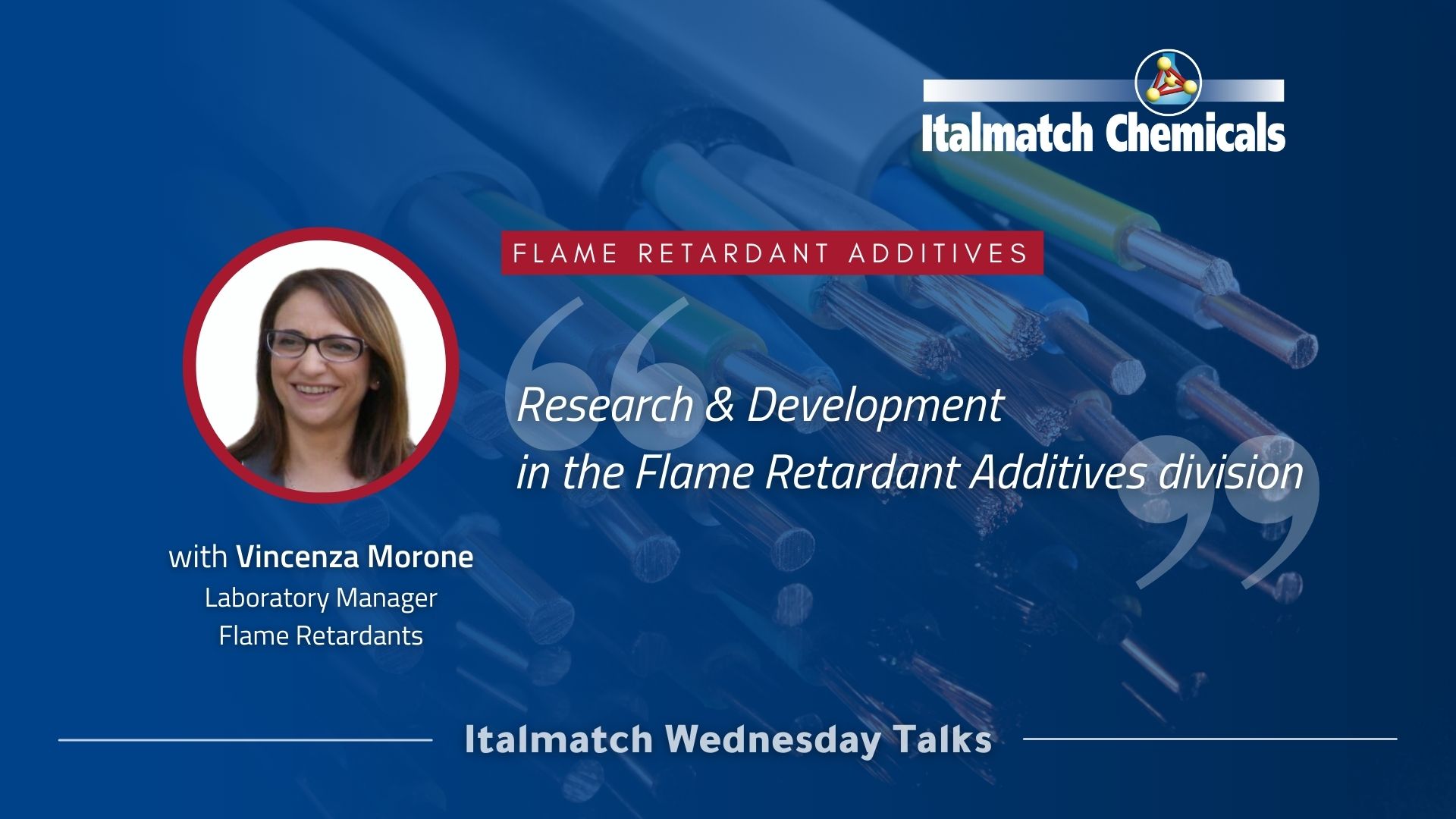 Italmatch Chemicals Flame Retardant Additives division is committed to the development of leading-edge and sustainable products and to the improvement of the currently existing solutions and processes. Thanks to the Business Unit's team, over the time the Group has been pursuing numerous innovation projects and has been able to reach several R&D achievements in the past years. Phoslite® and Melagard® technologies are just two examples of flame retardant R&D activities by Italmatch. Today we talk about these topics and newest additions to our FR portfolio with Vincenza Morone, Laboratory Manager Flame Retardants.

contact our flame retardants expert →

What were Flame Retardants BU latest achievements in terms of Research & Development?
The intellectual property of Italmatch for flame retardant applications is wide and mainly linked to Phoslite® technology. The main building blocks of Phoslite® flame retardants are inorganic phosphinates combined with selected synergistics, depending on polymer and applications. Our first achievement was Phoslite® system for halogen free polypropylene UL 94-V2, which offers improved flame retardant performances with a lower additive loading and represents a unique solution on the market for many applications like electrical conduits, stadium seats, ventilation profiles. Flame retardants for glass fiber reinforced polyamide 6 were our second big achievement. Connectors, switches and electrical parts produced with Phoslite® additives offer flame retardant performances at low thickness and improved electrical properties in humid environments. These are key parameters for safety and miniaturization in important applications like electric vehicles (EV) and appliances. Phoslite® additives for halogen free flame retardant thermoplastic polyurethane (TPU), used in special electrical cables for automotive and injection molding items, were another Research & Development achievement.
What R&D projects you are currently working on?
We are working on different projects to improve processes and product quality and to develop flame retardant formulations for new applications. One project is red-Phosphorous flame retardant Masteret® products with very low emission for extremely critical environments. Regarding Phoslite® technology, we are working on the development of closed loop production processes with zero waste. New Phoslite® grades with improved performances in terms of processing, applications and better customer productivity represent a further target of our R&D activity. Another innovation project is focused on development of Melagard®, melamine based flame retardant additives, with exceptional purity required for some critical applications.
What are you doing to make Italmatch Flame Retardants even more sustainable?
Our R&D target is to develop flame retardants suitable for purpose and for a long product lifetime. If flame retardants were to degrade or decompose quickly, they could not provide fire safety for several years or decades as required. Their chemical stability is a prerequisite to ensure durability for recycling in a circular economy. Our Phoslite® grades for Polypropylene UL 94-V2 are the most stable solution in the market for outdoor exposure; our grades for Polyamide 6 and PBT composites are extremely durable at high temperature and humidity environmental conditions, even in presence of high electrical fields like in electric vehicles.
Vincenza Morone graduated in Chemistry and Pharmaceutical Technologies in Roma "La Sapienza" University (Italy) and then specialized in flame retardancy at European Research Centers and Universities. Vincenza joined Italmatch Chemicals flame retardant R&D group on 2014. Her previous experience in flammability testing and passion for experimental activities have significantly contributed to the flame retardant R&D laboratory growth in Spoleto. She holds 4 Patents and some publications in the flame retardant polymers additives field.
A long article featuring Italmatch and its solutions for sus...

The conference was organized by Confindustria Genova with SD...

The Company participates with an interactive laboratory abou...
Read more News