Performance Products for new solid-state EV batteries: interview with Norberto Gatti
Learn more about recent developments for new solid-state EV batteries with Norberto Gatti (Global Sales & Marketing Director Phosphorus derivatives, Performance Products & Specialties)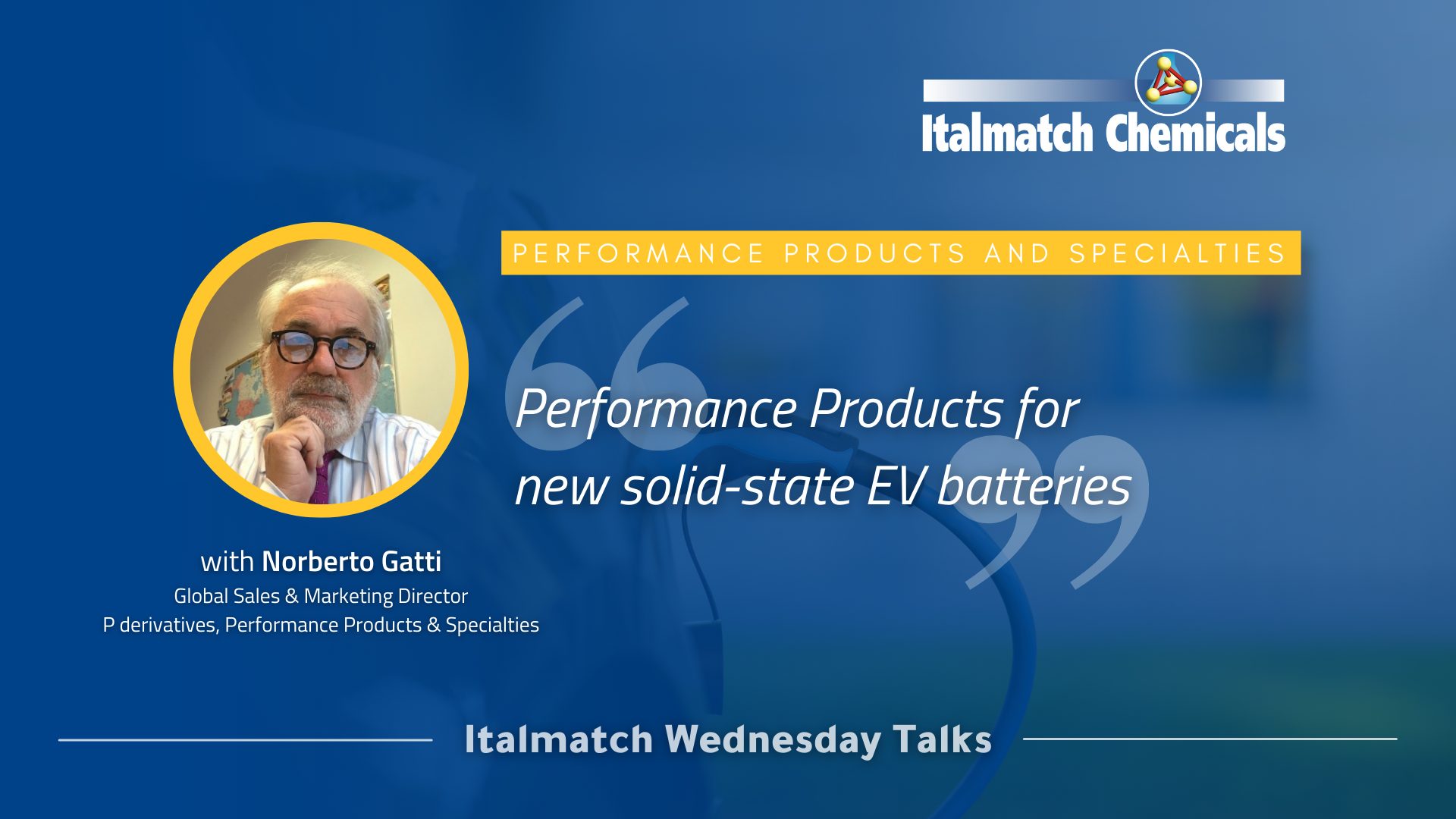 Range and charging speed are major sticking points for customers, and still represent the main concerns for any buyer. "Range anxiety" is the fear of driving an electric vehicle and running out of power, without being able to find a charging station on time to replenish the battery. According to recent studies, approximately 50 percent of potential EV drivers today feel uncertain about being able to charge their vehicle when they need to.
Battery producers are working to find new solutions and improve EVB features to fight these concerns. In this new episode of Italmatch Wednesday Talks, we discussed about these topics and recent developments for new solid-state EV batteries thanks to specialty chemicals with Norberto Gatti, Italmatch Global Sales & Marketing Director Phosphorus derivatives, Performance Products & Specialties.

learn more about our performance products portfolio →

What are the innovations expected to support EV diffusion?
There are different solutions and projects ongoing. Solid-state batteries could be the game-changer for electric vehicles, due to their features and performances. In the European Battery Project (IPCEI) Italmatch is involved in Research & Development activities regarding solid–state electrolytes technology.
Which are the benefits of solid-state electrolytes batteries?
Solid-state batteries could be charged much faster and can cover a much higher mileage, closer to a traditional car with full tank. A solid-state battery has higher energy density than a Li-ion battery that uses liquid electrolyte solution and this impact on its size (same size, higher performances).
Are they safer?
Yes, they are because they don't need the use of highly flammable solvents currently used in Li-Ion technology. These solvents are more likely to catching fire in case of car accidents.
If you want to learn more about our Phosphorus derivatives portfolio, visit our Performance Products & Specialties Business Unit page >
Norberto Gatti graduated in Chemistry during the 80's in Milan University. He started his career in Montedison Donegani Institute in R&D for several years, including a yearly experience abroad. In 1992 joined MixOil, an Agip Petroli company, starting to work in the commercial arena of lubricant additives, then joining Italmatch in 1998 as Commercial Director of the Company. He is a passionate customer-oriented person, internationally experienced in Marketing, Sales and Product Development in Phosphorus Chemistry and Chemicals for Lubrication within multinational environments. Today, he is responsible for one of the Italmatch Business Units, coordinating the business work and the product development of 5 manufacturing units worldwide and growing synergies with other plants belonging to Italmatch Group.
A long article featuring Italmatch and its solutions for sus...

The conference was organized by Confindustria Genova with SD...

The Company participates with an interactive laboratory abou...
Read more News