La Repubblica Affari & Finanza – Italmatch growth in Water Treatment
The specialty chemicals group has gradually moved into the water treatment market. A rather recent entry, considering that it dates back to 2013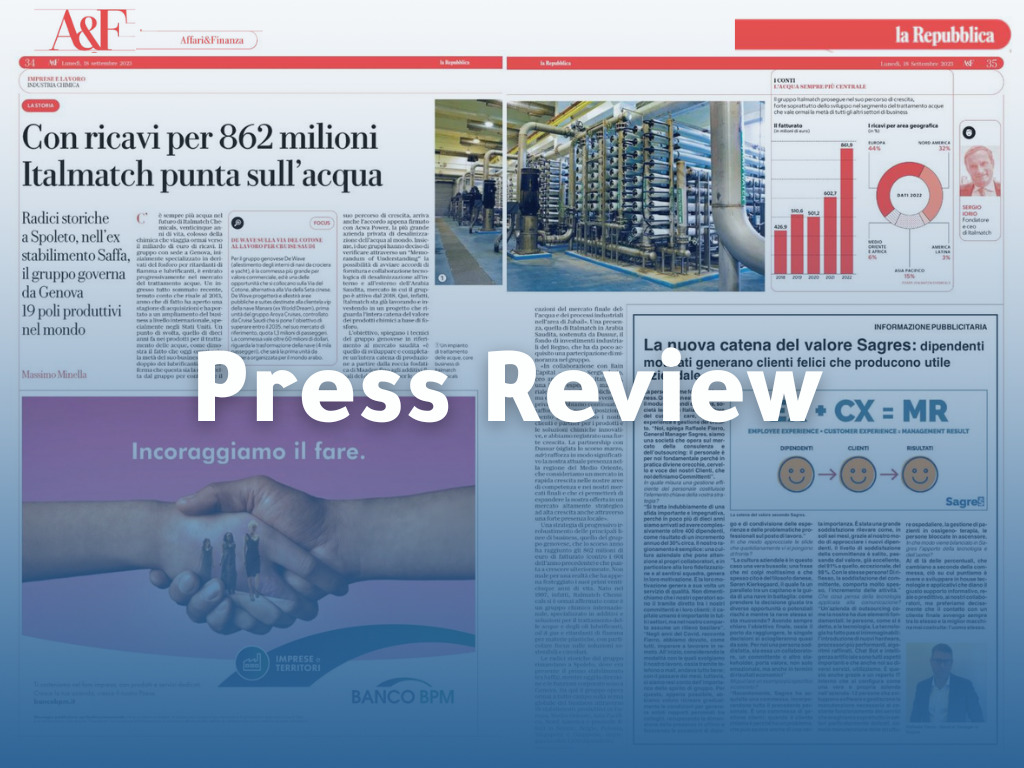 "There is more and more water in the future for Italmatch Chemicals, a 25-year-old chemical giant on its way to a billion euro turnover. Originally specialising in phosphorus derivatives for flame retardants and lubricants, the Genoa-based group has gradually moved into the water treatment market. A rather recent entry, considering that it dates back to 2013, the year that opened a season of acquisitions and led to the expansion of the business internationally, particularly in the United States. A turning point ten years ago in water treatment products, as evidenced by the fact that it now accounts for half of its business. The agreement just signed with Acwa Power, the world's largest private water desalination company, confirms that this is the path the Group has chosen to continue its growth. Together, the two groups have decided to explore, through a Memorandum of Understanding, the possibility of entering into agreements on supply and desalination technology cooperation inside and outside Saudi Arabia, a market in which the Group has been active since 2018. Here, in fact, Italmatch is already working and investing in a project covering the entire phosphorus chemical value chain." […] – from La Repubblica Affari & Finanza article.
Bloomberg's prediction of 75 million electric cars cars sold...

Our CEO Sergio Iorio took a speech about Innovation as a key...

Italmatch Chemicals is further strengthening its presence in...
Read more News