Italmatch Flame Retardants team at K2022: interview with Ugo Zucchelli
Italmatch returns to K2022 Düsseldorf: learn more about our presence and why you should visit us at Hall 8B/F46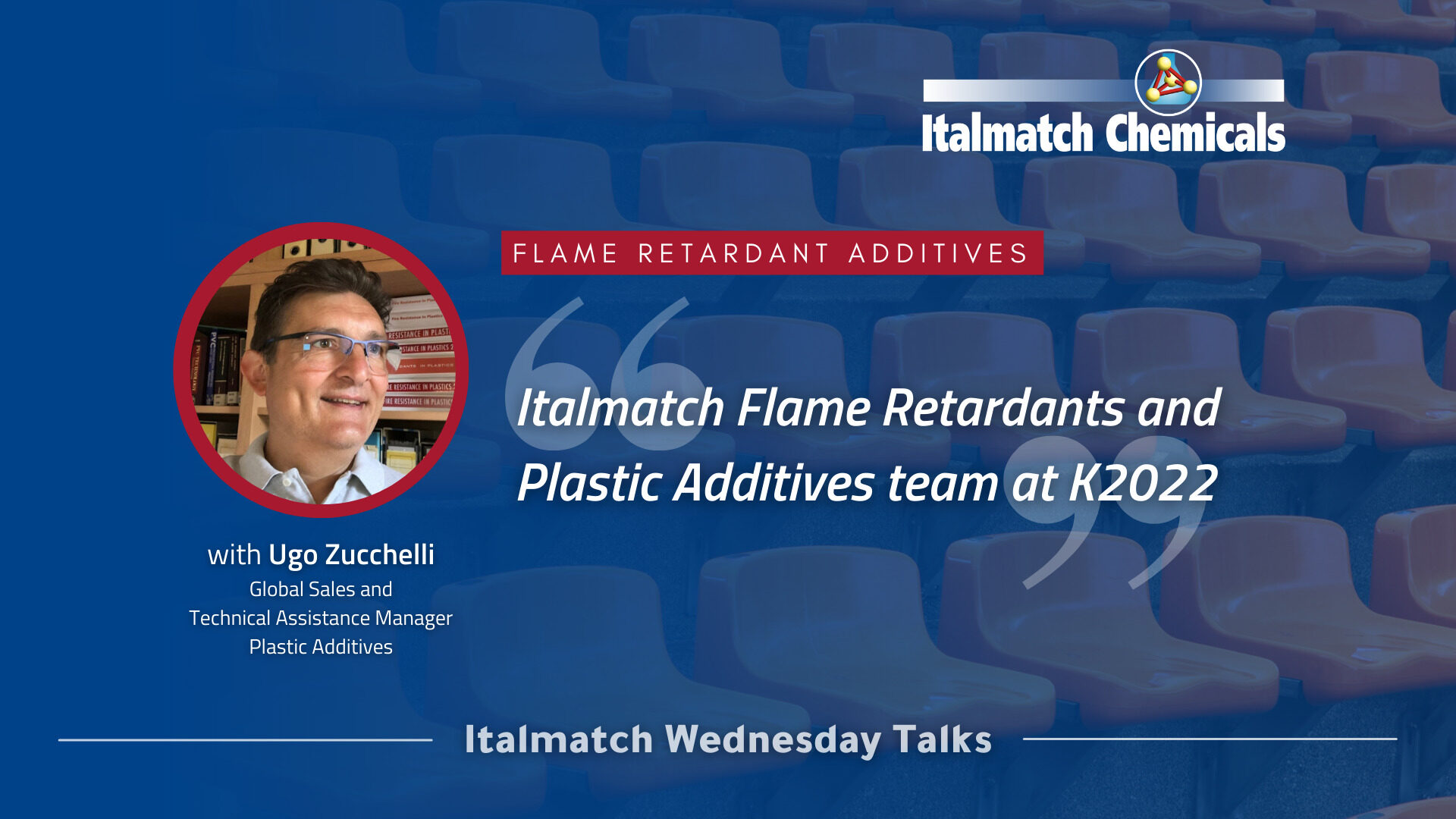 Italmatch Chemicals is back to K Düsseldorf (19-26 October 2022). Flame Retardants and Plastic Additives team will be available all week at Hall 8B/F46 to showcase our innovative and sustainable flame retardant solutions. The trade show is the most important event for the plastics and rubbers field. After three years from the last edition, K2022 will gather professionals from all over the world. A great occasion to create new connections, learn the latest innovations in the industry and collect information to develop your business in the plastics market. Today, we discussed about Italmatch participation in K2022 and our Flame Retardant Additives portfolio with Ugo Zucchelli, Global Sales and Technical Assistance Manager Plastic Additives.

contact our flame retardants expert →

Ugo, Italmatch Plastic Additives teams is once again at K Düsseldorf: tell us more about Company's participation in the event.
Italmatch Chemicals will be present at Hall 8B/F46, sharing the booth with our historical German distributor (WTH Gmbh). Our main applications are in flame retardants thermoplastic polymers like PP, PBT, PC, PA, TPU and EVA, in particular for the Electrical and Electronic sector including E-Mobility. In addition, we also have some special products (Red Phosphorus-based) for textile applications and thermosets as well.
Italmatch has been participating to K trade show in Düsseldorf for the last 20 years. The event is for sure the most relevant global meeting point for the plastics and rubber industries, bringing together exhibitors and trade visitors from all over the world. For machine producers, this is the traditional opportunity to show developments, solutions and trends in a direct way. For additive producers, K has been a chance for new contacts as well. This year however the number of prescheduled meetings with already known customers is really becoming the dominant part, showing a decisive change, maybe due to a kind of post pandemic effect. Indeed, the opportunity to combine one business trip with several physical meetings seems until now the dominant effect for participating in K2022.

As a trade show attendee, what can you expect by visiting Italmatch booth?  What products will you showcase to customers?
We are simply highly specialized and our technical help to customers is a fundamental part of our business. If you have any new project or need in the highly fragmented and complicated Flame Retardants field, we will be there to listen, discuss, solve and possibly to propose you directly a tailor-made product or solution. In Flame Retardants indeed, not only single additives but complete compound solutions are the keyword and the specific deep technical knowledge is a must.
It's been three years since K Düsseldorf last edition: what have been Italmatch's R&D and sustainability achievements during this period?
Compared to the last K2019 edition, the world had change substantially. The energy and environmental crisis , the pandemic situation has changed completely the rules of the game. We have to develop a supply chain not only resistant, but sustainable. For instance the desire to find alternative sustainable solutions to extraction of phosphorus raw material, is no more a long term project for us, but instead a middle term one.
Regarding Research & Development, we have to say that Italmatch invented in year 2005 a novel flame retardant technology, under the Phoslite® brand, based on inorganic phosphinates. During the last 17 years new Phoslite ® applications have been continuously developed and covered by Intellectual Property. We can offer a wide range of innovative solutions for several application requiring superior performances in terms of flammability. The most recently developed Phoslite solutions for instance are matching the most severe levels according to Glow Wire standard.
But definitively the most challenging and exciting possibility is today's concrete opportunity to replace a large number of existing halogen-based flame retardant applications with environmentally friendly Halogen–Free solutions, based on phosphorus derivatives of course.
A long article featuring Italmatch and its solutions for sus...

The conference was organized by Confindustria Genova with SD...

The Company participates with an interactive laboratory abou...
Read more News