Group CEO Sergio Iorio on The CEO Magazine: ESG and functional solutions
Eng. Iorio analyzed Italmatch Chemicals' past and future all round, with innovative plans guided by ESG principles and a new mindset for the Company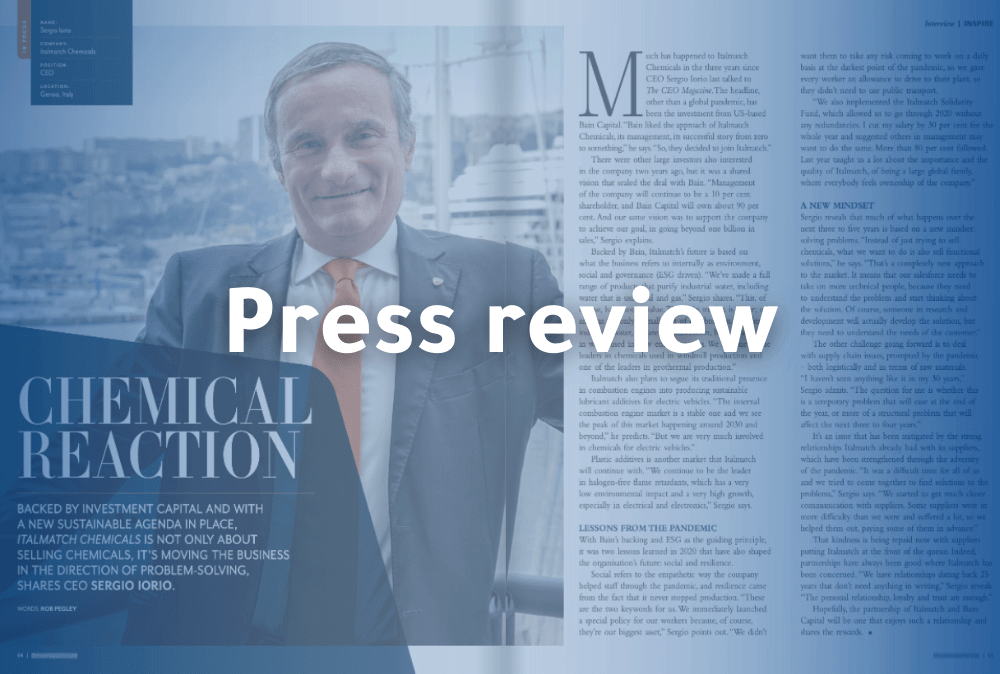 Italmatch Chemicals Group's CEO Sergio Iorio was interviewed in the latest issue of The CEO Magazine – EMEA. Eng. Iorio focuses on many topics, ranging from the Company's past with Bain Capital acquisition three years ago to Italmatch's plans for the future, with innovative and ESG driven products and Research & Development Projects and a new mindset guiding the Group. "Instead of just trying to sell chemical, what we want to do is also sell functional solutions" said Eng. Iorio.
The pandemic and 2020's solidarity projects were also among the topics discussed during the interview: last year Italmatch implemented the Solidarity Fund, a salary reduction plan to face Covid-19 which involved Group's CEO, Managers and Employees that voluntarily wanted to join, allowing the Company to avoid redundancies.
Group News - Press Review
Ruggero Sala and Fabio Costiniti, from Personal Care, Fabric...

The Group is committed to setting a near-term science-based ...

100 Italian E-Mobility Stories 2023 features Italmatch thank...
Read more News