A new market for Italmatch AWS: Sugar cane processing – SugarMaxx
We talk about the recent collaboration between Italmatch and ProSugar for new product line SugarMaxx market development with Juliana Vieira Lessa, Regional Technical Development Manager LATAM Advanced Water Solutions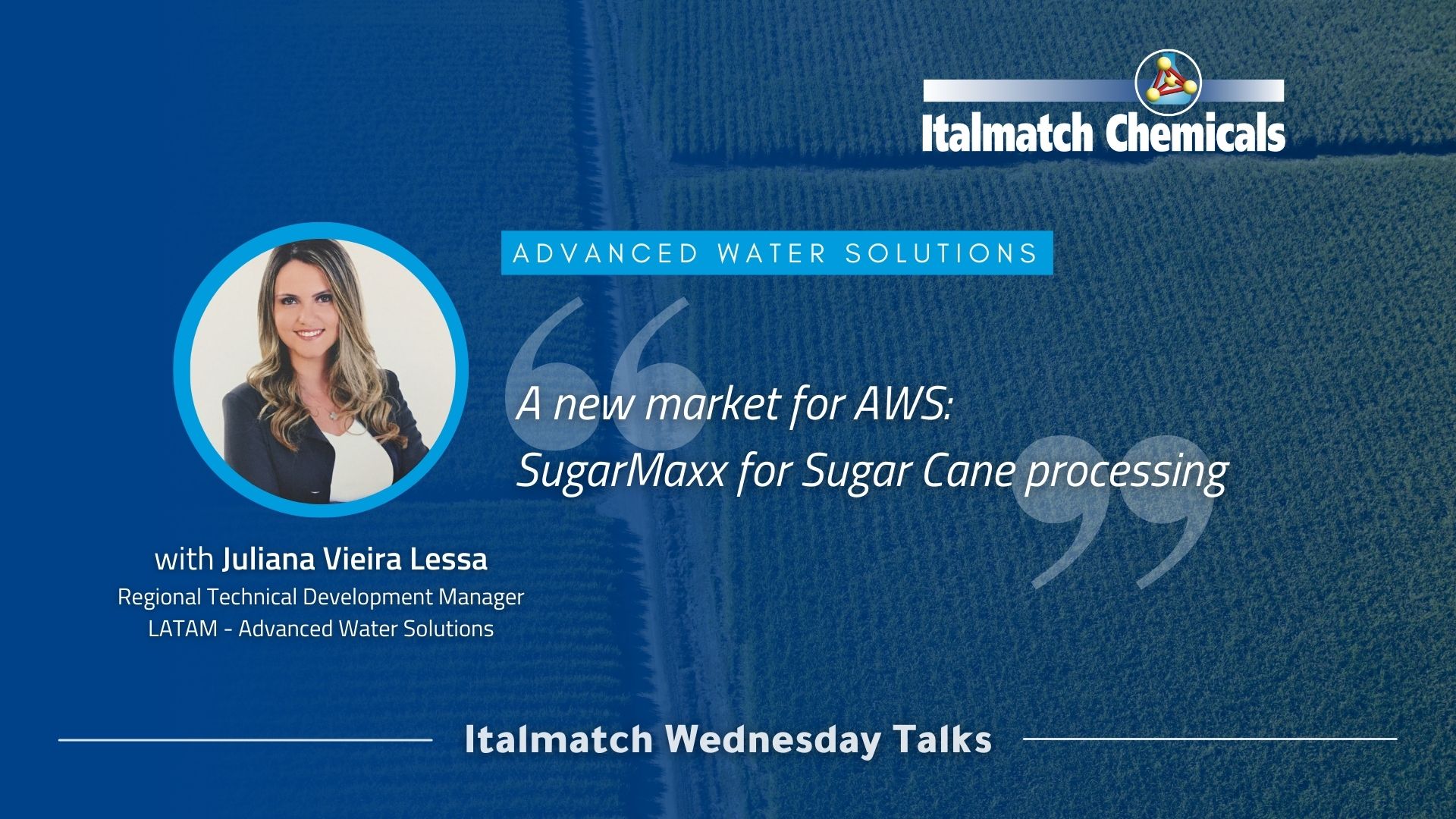 A new market and applications for Advanced Water Solutions portfolio. In line with its innovative approach, Italmatch has signed a collaboration licence agreement with Brazilian based company ProSugar. The two will work together on the market development of SugarMaxx, a new brand line based on solutions previously created by AWS. The innovative product line will pave the way to new applications for AWS portfolio, introducing sugar cane processing and in particular helping colour stability during these operations.
Today we talk about these topics with Juliana Vieira Lessa, Regional Technical Development Manager LATAM at Advanced Water Solutions.
Juliana, Italmatch has recently announced SugarMaxx in collaboration with ProSugar. Tell us more about this collaboration.
This is a strategic and very important collaboration for Italmatch Chemicals. As a result, a new highly innovative and patented technology has been developed in collaboration with experts who worked in the treatment of the most challenging sugar cane processing scenarios . Once again, Italmatch Chemicals confirms its commitment in providing innovative solutions to its customers.
What new applications will AWS portfolio cover thanks to the new SugarMaxx?
SugarMaxx technology is used in Sugar cane or beats mills and refineries. More specifically, the innovation contributes to improve sugar color reduction and stability, optimize the whole operations by providing energy and costs savings, as well as more safety.  This is a very important market, especially in countries like Brazil, Mexico or USA. In all these countries, Italmatch has already a strong team that is working to promote this technology and provide the necessary support for the application in the field.
What benefits will this new product offer for sugar cane processing? What can we expect from this in terms of innovation for this field?
This is a game-changer technology and the main benefit is related to the sugar color reduction and stability. In fact, during sugar production process, there are several factors that can affect the color of the cane juice when extracted. Compared to traditional methodologies, SugarMaxx can achieve a greater reduction, even in most severe cases. Furthermore, this color reduction is stable, meaning that sugar doesn't undergo darkening over the time. As the sugar price is strictly related to sugar color, this reduction allows our customers to sell sugar at higher price.
Juliana Lessa graduated in B.Sc. Petroleum Engineering at the Federal University of Sergipe, Brazil, in 2017. She is currently completing a master degree in Chemical Engineering at the Federal University of Rio de Janeiro. After a brief experience in a local Oilfield Chemicals company, working in development projects in partnership with the main O&G operators as Petrobras, she joined Italmatch Chemicals in 2018 as Technical Development Manager for Brazil, based in São Paulo's office. In 2019, Juliana was promoted to Regional Technical Development Manager for LATAM territory. Today, she is based in Rio de Janeiro and her work is focused on Sugar & Energy, O&G, Water Treatment, Geothermal and HI&I applications, providing technical support to marketing and sales teams and leading innovation projects.
Bloomberg's prediction of 75 million electric cars cars sold...

Our CEO Sergio Iorio took a speech about Innovation as a key...

The specialty chemicals group has gradually moved into the w...
Read more News